If you haven't figured it out by now, my recommended website hosting company is Cloudways. I feel really good about that recommendation, and it's the host that I use for all my websites.
I've tried many, many other web hosts in the past, and they always left me frustrated and exasperated.
Bluehost just became unstable, and I started to wonder why anyone recommends them at all.
Siteground started hitting me with weird overage alerts and other limits, and kept pushing me to upgrade to a more expensive plan that I probably didn't need. Then their renewal prices prices got jacked up, and I finally had enough and moved to Cloudways. I'm glad I did.
Whyyyyy do I recommend Cloudways for almost everyone, instead of any other host? Read on to find out.
If you're already convinced and just want to read my guide on how to sign up with Cloudways and set up your account optimally and quickly, click here.
Super fast cloud hosting for the win!
People usually sign up for shared web hosting when they're first starting out. Bluehost, Siteground, HostGator, GoDaddy — they all suggest shared hosting for the newbies. That's what I used for years! And it was… okay. Or so I thought.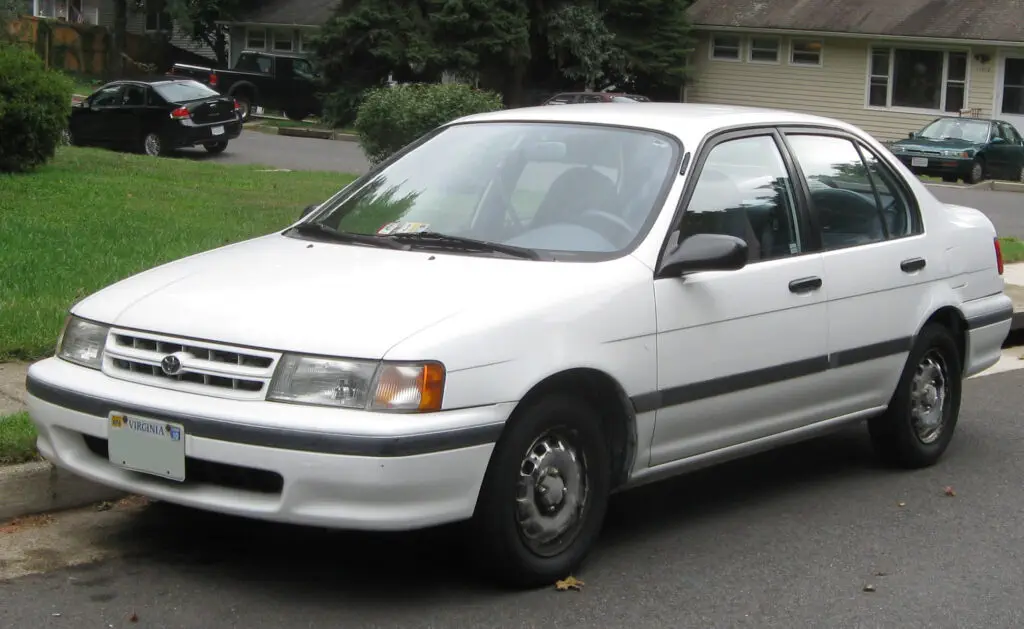 Now I'm older and wiser, and I know that shared web hosting sucks balls. (Click that link if you want to know exactly why.)
The short answer: shared hosting means your website is on a shared server with other businesses, and if one of those websites goes crazy for some reason — gets popular suddenly, gets hacked, gets taken over by bots — then your website is going to suffer too because you're on the same server.
Fuck that! And shared web hosting is just slow. You don't have any part of the server's resources set aside for your exclusive use, they're all shared. Hence the name. It's like driving a Toyota Tercel — you're going to get where you need to go, but you ain't gonna be quick, and Google ain't gonna be impressed.
What is fast? Cloud hosting is fast. Like Lamborghini fast. And you don't have to share resources with anyone else's website.
And because speed is the single most important factor when it comes to web hosting, it's the first and most critical thing you should consider. Therefore you need the fastest web host you can get, which historically has meant paying big bucks… until now…
The price is right
Cloud hosting used to always be prohibitively expensive, like $80 per month and up. So it was out of range for ordinary people like you and me.
Cloudways has changed all that. They've created a new service and pricing model, which cracks open the door to cloud hosting for everyone else. They give you a slice of a server (your own slice) which means you can drive as fast as you wanna drive, without anyone else slowing you down.
Wanna know something else? Cloudways actually ends up being cheaper than shared hosting anyway! How is this possible?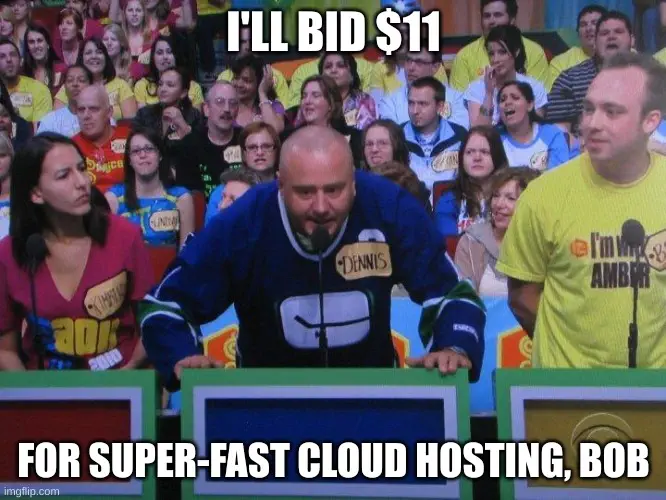 Cloudways starts at $11/mo for their most basic package, at the time of this writing. And that's usually enough for most people.
All the other famous shared hosting providers will offer you a seductive intro price… but then they jack up the prices when it's time to renew. And that renewal price is usually $11 per month or even more!
Here are examples and full break-downs:
So why would you sign up with one of these hosting nightmares, when there's a better alternative, and it's faster, and it costs about the same?
No contracts, and no price-jacking bullshit
Something I really like about Cloudways is that you're not locked into any contract, at all. Ever.
If you want to bail after 1 month, you can easily do that without any financial obligation. I doubt you'll want to. But you can cancel Cloudways in a second without losing a bunch of cash.
The other shared hosts all require you to pay in full for a year or two in advance if you want to get their intro offer price. That means paying a big lump sum up front. I'm not into that, personally.
What's worse, all the other shared hosts will jack up their prices when it's time to renew. Click on the links in the previous section if you want to see screenshots and examples of this. I hate it. It feels like bait and switch to me, although I guess technically it's not. But it still feels like a shitty and deceptive business practice. The lump sum for that second year renewal is frickin' painful, y'all.
Cloudways doesn't have sneaky renewal prices. It's still that same $11 per month, every month. Or whatever package you signed up for. The price stays the same month after month, and you can cancel whenever you need to. That feels better to me. "Less evil", if you will.
For my money, if the price is the same but the speed is better, and you can avoid the mind games… isn't that the better option? Wouldn't you rather drive a Lamborghini, if it costs the same (or less) as driving a Toyota Tercel anyway?
It's not more complicated
Occasionally people will object to Cloudways because they feel it's more complicated. They'll say that you need to be an expert to use it. That's just flat out wrong.
Maybe it's a teeny bit more complicated at the beginning. That's why I made an explainer video on how to get everything set up in under an hour. And that is about as complicated as it gets. Seriously.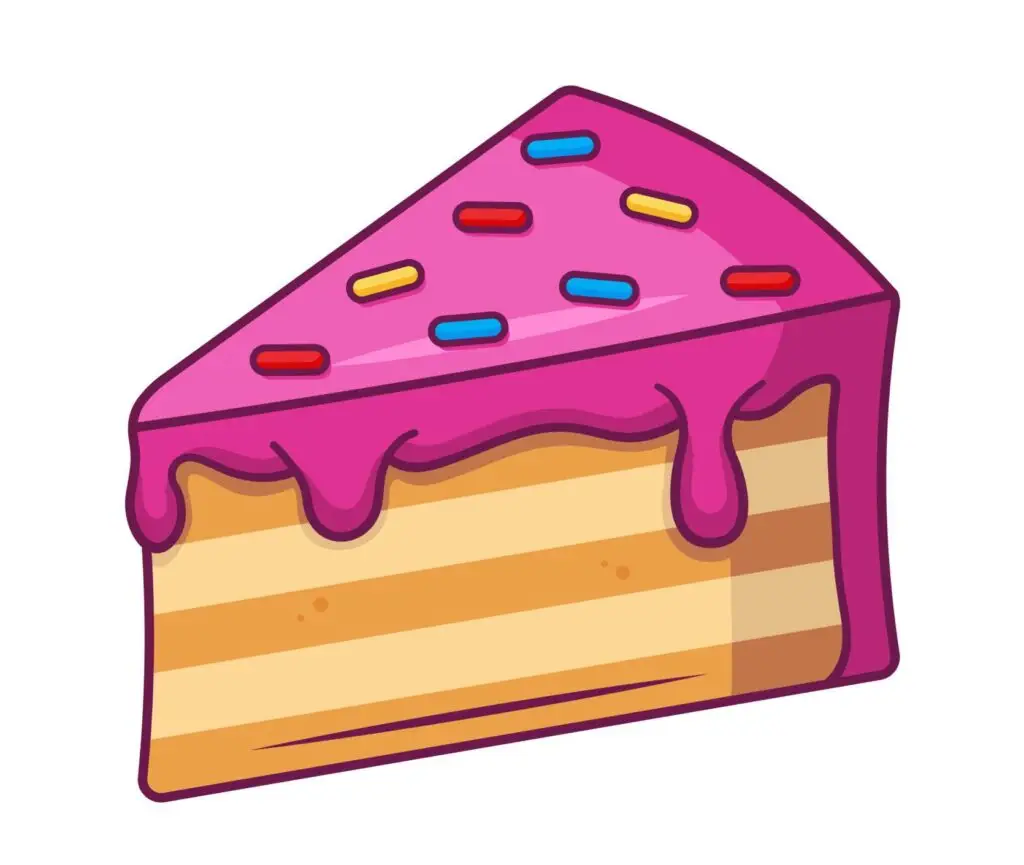 In truth, once you've set up your web host, you probably won't need to think about it again very often at all. That is, if you picked Cloudways.
If you picked one of the other companies, you probably will need to think about your host a lot, because they'll keep claiming you've gone over some imaginary limit that you never heard about before. And that's frustrating, and it's a time suck, and I hate it.
When I signed up for Cloudways, I didn't have the benefit of the sweet guide that I've made for you. I figured it out myself, it wasn't that hard, and now I basically never think about it. They don't hassle me over small potatoes. Heck, I don't think I've ever gotten any sort of an alert or warning from them about me going over some limit. I love that! It's truly set and forget.
The support is just fine
After speed, the second most important thing when selecting a web host is the quality of their support.
And in all transparency, Cloudways' support team seems to be based in South Asia (i.e. India, Pakistan, Bangladesh, etc.) Some people will mention that as a negative thing. But unless you're an asshole, it shouldn't matter.
It isn't their first language, but their English is pretty darn good considering, and their communication is clear and very easy to understand. I've been impressed in this area.
They provide 24/7/365 support, and not every host can say that. Whenever I've asked a question, they've been super prompt and helpful while still being patient. And they've always helped me resolve it. And that's the whole point, isn't it?
I'll add that Cloudways' documentation is very robust. It's comprehensive, it covers everything, it's easy to understand. And it answers the specific question you have in that moment.
In summary, I've found their support to be just fine. Feel free to ask them "dumb questions", they don't mind and I've done it plenty of times already.
Awesome add-ons included for free
I'm not going to do a full side-by-side analysis of which features are included compared with other hosts, because who has time to read all that? You can nerd out on their website and really dig in and read everything there, if you want.
I am going to highlight some of the best add-ons included for free at Cloudways, which other hosts will generally charge you extra for:
Free Migration — Cloudways will migrate one site free of charge for you. I did it, and it saved me a ton of time moving my site from Siteground. If you have additional sites, they have a free plugin you can use. I did that as well for my other sites, and it worked like a charm.
Free Backups — some hosts charge extra for this, and that's just evil. Backups are critically important. I can't tell you how many times I screwed up my WordPress site and was thankful for the ability to just instantly revert to an earlier version with a single click. Saved my life, more than once. Automatic and free at Cloudways.
Free SSL — this means you can tell people your website starts with https and that it's fully secure. Your site can even have that little lock up in the corner of your browser address bar. This is really important, and it's free with Cloudways.
Free Advanced Caching — I can't pretend to understand exactly what Memcached, Varnish, Nginx, and Redis do, but I do know they are next-level caching technology and not every host has them. In layman's terms, it means your site will be really fast. Cloudways also has their own WordPress caching plugin which works really well, is highly-regarded, and comes automatically installed and configured when you set up a new WordPress site.
Free Firewalls, Bot Protection, and automatic SafeUpdates for WordPress — nobody has time to deal with hacked websites and bot attacks. I can't tell you how many times my sites got hacked at the other hosts. I've never been hacked at Cloudways.
Okay, these are the biggies that stand out to me. I like they're included at no additional cost.
There are a ton of other features that you can read about at their site, and some of them are more technical and you might never need them. It's nice to know they're available though, and their support team & documentation will help you understand when you might benefit from them.
Recommended by the experts
Look, you don't have to take my word for it. If you're still not convinced, I'm going to paste a bunch of unsolicited comments from stone-cold experts who hang out in the Facebook groups and subreddits that I'm a part of.
They almost all love Cloudways. Some of the group admins even got exasperated by how much of a love-fest about Cloudways their groups turned into. Hilarious! But it says a lot.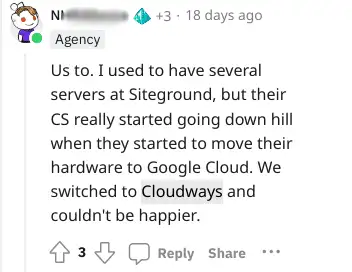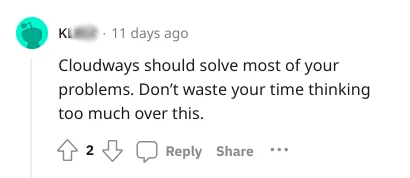 Peace of mind is important
I touched on this before, but I'm going to reference it one more time. Peace of mind and not being hassled by your hosting provider for imaginary overages and limits that you never heard about? That's really important.
The other hosts always got after me for CPU overages and other rules that weren't clear. Siteground told me I was "over my inode limit" whatever the hell that means, and if you're a Siteground customer then I'd wager you've heard something similar.
Cloudways never gives me any grief. It just works. My sites are fast, they work, and if I have any issues they help me fix them quickly. They never hassle me about anything.
And that keeps me calm, which I like.
Okay, actually I do have a discount for you
If you're ready to sign up at this point, then good. I'm glad my points above have resonated with you. I feel good about recommending Cloudways and I know you're going to be pleased you signed up with them.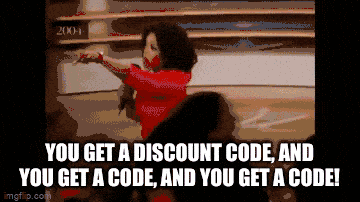 I know I rail against intro prices a lot on this site, but I'm actually going to offer you a small discount if you sign up with Cloudways using the code below:
Code: BILLY
Discount: 25% off for 2 months
To my mind, this is different from those sneaky intro prices that the other hosts like Bluehost offer. You should still be very clear that your overall monthly cost with Cloudways is $11/mo (or whatever package you sign up for), and that my discount is only temporary.
But still, everyone likes to save money, right?
Okay, time to get started and take action. If you'd like some help, please watch my guide for how to sign up with Cloudways and complete your initial account setup. I made it for you!